Why the Magic Bean Club? 
The Magic Bean Club was founded in December of 2021 by Chris "Sandman" Sand and his daughter, Stevie, and it wrapped up in January of 2023 (but think of it as a dormant bean seed, still pulsing with mystery and potential). They began it, partially, as a way to combat the dread of another pandemic year, but it quickly blossomed into something more interesting. By January of 2022, they had a long list of reasons why creating a Patreon-based subscription gift club made sense.  
Here are five of them: 
to SHARE art, music & poetry 🎶 
to REMIND everyone that magic is everywhere 🧚 
to LEARN about legumes, gardening, & cooking 🫘  
to HONOR a decade of parenthood for Chris ⚓💕 
to CELEBRATE ten years of childhood for & with Stevie 🤸🏽‍♀️ 
They use the Magic Bean Club to 1) till the soil of creativity, 2) plant seeds of curiosity, 3) grow beanstalks of imagination, and 4), harvest meaningful connections with friends, new & old.  
Weaving together the tiny, the vintage, the silly, the earthy, the whimsical, and "weird," they'v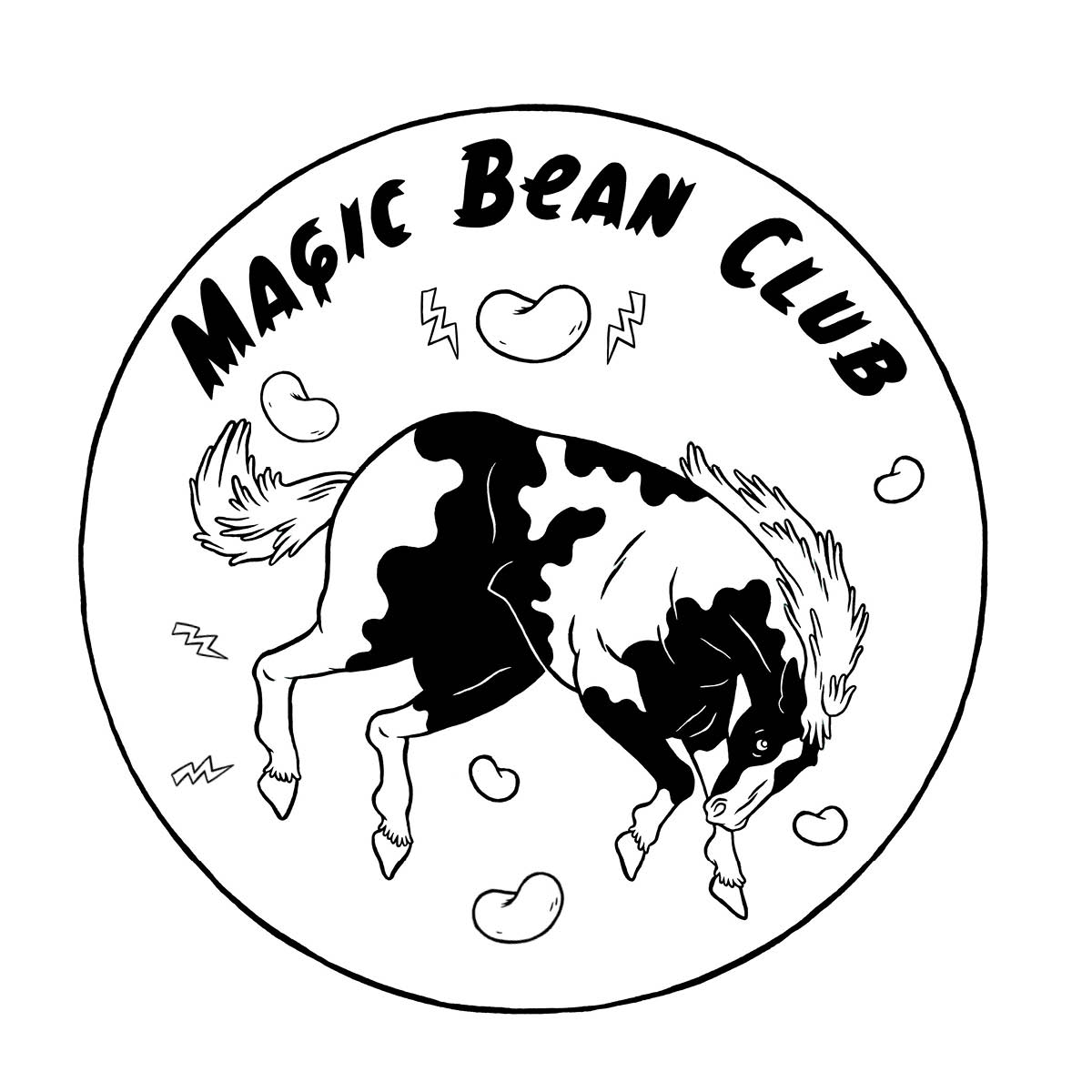 e fashioned a metamodern detective story that feels fresh & fun. Chris claims that their special beans are tended by nocturnal "Sandlandian micro-gnomes'' who navigate winding tunnels leading to deep chambers filled with crystal-charged "dream-seeds." Chris and Stevie have practical sides, too: Stevie works behind the scenes directing tutorial videos, sorting beans and stamping envelopes. Chris collects curios, crafts stories, and makes snacks. 
"Why beans?," you may ask. They feed the world, for one thing. Beans supply a healthy protein that doesn't negatively impact the health of the planet like factory farms full of cattle, pigs, fish, and chickens do. From Tibet to Ghana to Mexico, beans are cherished for their high nutritional value & low cost. According to Jian Chung Lee, who in 2019 wrote a proposal for creating a BEAN emoji, "The bean is just as cultural as it is culinary. It can indicate different types of seeds . . . refer to someone's head . . . or [of] disclosing secrets ('spilling the beans')." The bean is also a familiar cultural symbol. Take the "Jack and the Beanstalk" fairy tale, for instance, or the Bean sculpture in Chicago's Millennium Park. 
If you've updated your smartphone recently, you'll see that Lee's emoji proposal was accepted; "beans" are now in the emoji library. 
All aboard the Bean Train! 
🚂 ####################################🫘 💨 
Magic Bean Club Membership (for posterity's sake)!

The Perks 🌈 🥳  
Remember when you were a kid how much fun it was to open mail? Maybe it was a birthday letter from your grandparents with a $5 check. Maybe it was a Star Wars card or stick of gum from a cousin. Either way, you were stoked. 
Stevie and I used the Magic Bean Club to add magic, mischief, and mystery to the lives of "human beans" everywhere–both the young and young at heart. We went BIG by celebrating the tiny! 
Membership in the Magic Bean Club included: 
a monthly "Greetings from Sandland" newsletter from Stevie & me 
lyric pages for sing-alongs (monthly) 
album-themed drawings to color in (new each month) 
Magic Bean Club music videos 
bright song-themed vinyl stickers (2nd tier & above) 
monthly magic beans nestled in colorful pouches + crystal (2nd tier & above) 
a monthly vintage curio: i.e., coin, charm, toy, or other special oddity (2nd tier & above) 
BONUS games & treasures! (2nd tier & above) 
a FREE Magic Bean Club "Welcome Package" ($30 value, see pg. 3 for details) 
Members were invited to join a private online community--The Magic Bean CLUBhouse--where they could share pictures & stories and find regular exclusive content. Monthly Magic Bean Club subscriptions brought delight to people of all ages, and maybe, just maybe, we'll someday bring it back!
Please watch a few of the fun Magic Bean Club videos we made HERE.